About us

Somerford ARC is a registered charity, set up by local residents of Somerford Estate (the Trustees), with the purpose of opening and running a much needed Community Centre. Somerford ARC is run by the board of Trustees, the ARC office manager, and with the valued help of our wonderful Volunteers to benefit all residents of the Grange Ward, Christchurch and the surrounding areas.
Our Aim is to work together for our community
Somerford ARC is 'your Community Centre'. We aim to improve the economic, social and environmental well-being and quality of life for people in the Grange Ward area, especially the residents of Somerford.
We hope to do this by:
Initiating and supporting a wide range of community projects and events
Strengthening the network between local voluntary agencies and the community
Inspiring residents to become volunteers and to take part in the delivery of community activities
Brief Overview of Somerford ARC & It's Facilities
Situated in Somerford, Somerford Alliance Resource Centre ("Somerford ARC") consists of a few unique rooms. Our IT Suite being fully equipped for training, learning and conferences. The Main Hall offers a large stage and a parquet floor ideal for dance and fitness clubs. There is also a small room that we have named "The Snug", which is a small comfortable room with a very relaxed atmosphere, ideal for smaller groups who just wish to meet up for a coffee and a chat, or it's ideal for interviews and consultations on a one to one basis.
We have a fully equipped kitchen, disabled toilet and baby changing facilities. The Entrance door, IT Suite door and Main Hall door are wide doorways for easy wheelchair access and the whole centre is wheelchair friendly. There is a large car park, which will accommodate 20 cars.
Why don't you come along to the ARC or contact us to find out if there is an activity that would suit you and meet others who share your interests. Alternatively, if you require a venue for your group, please do contact us.
Bus's run on a regular basis and are within a short walking distance to the ARC. Bus stops are sited on Somerford Road close to Cooks Furniture Store and McDonald's.
Somerford ARC is a refurbished community centre owned by Sovereign Housing Association and leased to the Residents of Somerford via the vehicle of "Somerford ARC". A charity set up to enable the Community Centre to survive following the closure of the long standing Centre on the corner of Southey Road and Amethyst Road.
The Creation of Somerford ARC
The old Community Centre had been in existence since 1974 when it was a "Day Centre" and at that time a covenant was put on the land to ensure that a community facility would be on the site "forever". The Centre then became a Community Centre and it had been used by local families for parties, wedding receptions and a general meeting place, providing exercise and other classes during that time. It was also the Polling Station.
In 2008 Sovereign, Twynham Housing Association, put in a planning application to demolish the old Community Centre and build offices, which would be their "flagship" office for the Association and a room would be provided that would hold 30 people as a "community facility". The residents were unhappy with this and voiced their opinions through the Local Resident Association "Somerford Community Partnership" (SCP). They fought this application and after a lot of hard work and support from residents the application was refused in 2010, the covenant on the land had a major impact on the decision to refuse. The old Community Centre had been closed and the likelihood of it re-opening was very remote.
It became very clear that a community facility was much needed. Because of the condition of the existing Community Centre, which had not had any remedial works done for years, negotiations between Sovereign Housing and the Local Residents Association SCP, for either works to be carried out to the existing Community Centre or a new community building might be made available in the form of the United Reformed Church in Southey Road. This had been used by Sovereign Response, but became empty. The costs of the works to bring the old Community Centre to a usable condition came in at over £75,000 because of asbestos in the building. To bring the United Reformed Church to a usable condition as a community facility was approximately £45,000. Sovereign were not prepared to spend the £75,000 and therefore it would be closed permanently so there would be no Community Centre at all. At that time, and as part of the negotiations for the use of the site, it was suggested that homes for local people be built on the old community centre site. With the support of the residents, Sovereign would spend approximately £45,000 on the United Reformed Church and lease it to the community. This was the agreement and a "steering group" was formed to meet and discuss the way forward and after initial meetings a "core group" of approximately 6 people then applied for charity status. "Somerford Alliance Resource Centre" was then formed in 2013 with 3 Trustees at that time, we now have 5 Trustees who together make decisions about the day to day running of the centre.
Somerford ARC opened for business in April 2014 and officially opened by the Mayor Councillor Denise Jones on 7th June 2014

We are very proud of our achievements over the past few years. We have a huge variety of activities, a bank of great Volunteers, an Office Manager, an Office Assistant and we have many organisations that we work with to support the community in every way. This could not have been done without the support of the community - Thank You All.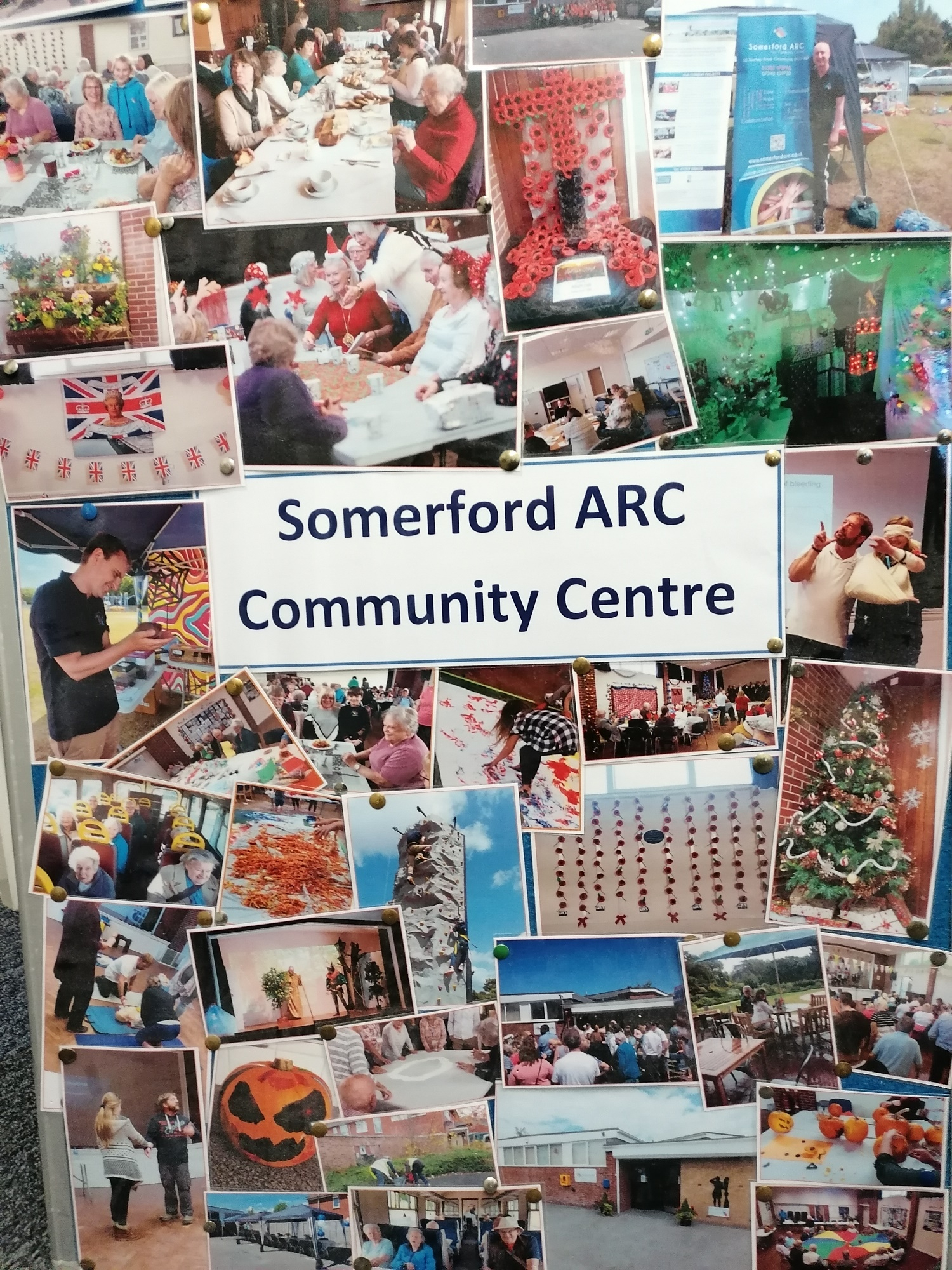 History of Somerford and Christchurch
If you would like to learn more about the history of Somerford and Christchurch, click on the links below:
Christchurch History Society - Somerford Estate
Dorset Council - Local-history
Wikiwand - History of Christchurch, Dorset.